Kibow's Educational Webinar on The Gut Microbiome and Dysbiosis in Health, Disease, and the Healing Process, at 11th Biennial Conference of Pakistan Society of Nephrology, Islamabad Pakistan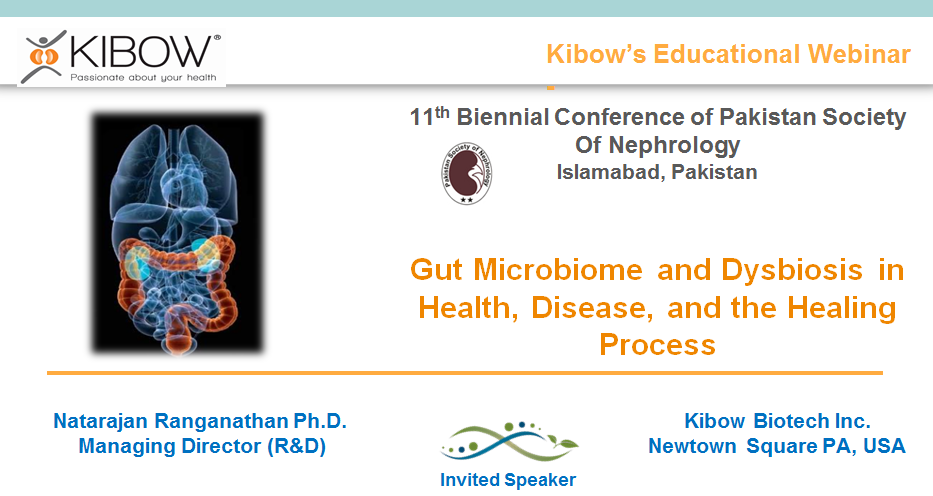 In this educational webinar, Dr. Natarajan Ranganathan (Managing Director of Kibow Biotech) outlines the role that the gut microbiome plays in maintaining health, disease state, and the healing process. In this 21 minutes educational presentation, Dr. Ranganathan discusses the Human Genome Project, technological advancements in bioinformatics, the human gut microbiome, and so much more! Towards the end of the educational webinar, Dr. Ranganathan discusses fecal microbiota transplants or FMTs, and their successful applications to treat recurring C. difficile infections.
Everyone's microbiome is different, but understanding how the microbiome shifts as we age, can give us the opportunity to ensure that we age as gracefully as possible. Whether it is incorporating more fiber/healthier food options into your diet, hitting the gym for a few hours a week, or adding a probiotic supplement to your daily regimen, Dr. Ranganathan will show the importance in maintaining a healthy gut microbiome. Enjoy!
Kibow's Educational Webinar on The Gut Microbiome and Dysbiosis in Health, Disease, and the Healing Process
At 11th Biennial Conference of Pakistan Society of Nephrology, Islamabad Pakistan